RESALE FLATS FOR SALE IN NOIDA
REAL ESTATE PROJECTS IN NOIDA
ATS PRISTINE SECTOR 150 NOIDA RESALE
ATS Pristine is one of the best quality residential project situated in sector-150 Noida Expressway. ATS Pristine is the one of the less density residential project among all the projects in Noida. The total area of this project is 23 acres land, in which phase I is spread over 18 acres of land and remaining 5 acres of land is in under construction. This residential project will have two club-houses along with two swimming pools which makes this project more attractive from other projects. ATS Pristine is devoted for all premium class flat buyers.
ATS Group has again repeated its best quality work in this project by providing phenomenal class quality construction and Vastu friendly layout of the flat. ATS Group is offering Modular Kitchen in Pristine I and complete wooden work along modular kitchen in Pristine II, which actually gives extra edge to this project. Moreover Builder is installing 5 split AC's in each flat of ATS PristineI & II. The best part of this project is that, ATS Group is offering minimum 2 covered car parking with each flat. Developer is giving isolated lift for commutation from basement to ground floor for having high security. Landscaping area is now a day's very important constraint for buyers, because almost every builder is not giving you 70% open area, but ATS Pristine is having more than 70% open area. ATS Pristine will have very high class gentry which will give adequate satisfaction level to buyers for their neighbourhood.
'ATS Pristine I' has got the possession, apparently resale is to be started. Many of resale deals are happening of this project now a days. People are seeing the project physically and they are asking for flat in Pristine only. So second sale of this project is very high. Although the investor who invested their money initially in Pristine, they are getting substantial amount of premium. Second hand properties are available in ATS Pristine phase I on distress sale. Now a days there are many distress deals available in ATS Pristine and flat buyer can have feasible deals. ATS Pristine has just got the possession and many of investors are willing to dispose their investments before the registry. Therefore distress sale can be happened in this project and buyer can have reasonable deal in ATS Pristine.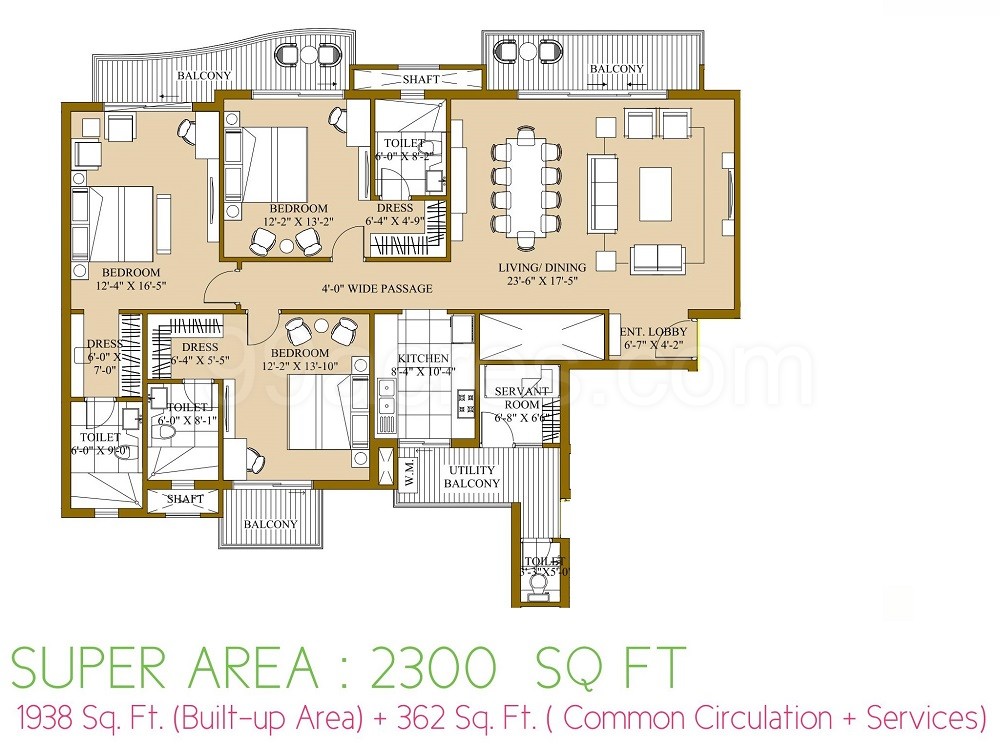 Ready to move Resale Flats Available
| Type | Area (in sq ft) | Demand(BSP*) | Floor |
| --- | --- | --- | --- |
| 3BHK+3Toi | 1750 Sq-Ft | 1,07,00,000 | 17th Floor |
| 3BHK+3Toi | 1750 Sq-Ft | 1,07,00,000 | 21th Floor |
| 3BHK+3Toi | 1750 Sq-Ft | 1,07,00,000 | 23th Floor |
| 3BHK+4Toi+Ser | 2300 Sq-Ft | 1,35,00,000 | G. Floor |
| 3BHK+4Toi+Ser | 2300 Sq-Ft | 1,35,00,000 | 19th Floor |
| 3BHK+4Toi+Ser | 2300 Sq-Ft | 1,35,00,000 | 20th Floor |
| 3BHK+4Toi+Ser | 2300 Sq-Ft | 1,35,00,000 | 22st Floor |
| 4BHK+4Toi+Study | 3200 Sq-Ft | 1,90,00,000 | 14th Floor |
ATS Pristine Price and Floor Plans For Fresh Booking
Type
Size (in sq ft)
INR(BSP*)
Floor Plans
3BHK+3Toi
1750 Sq-Ft
96,25,000
3BHK+4Toi+Ser
2300 Sq-Ft
1,26,50,000
4BHK+4Toi+Study
3200 Sq-Ft
1,76,00,000
ATS Pristine Site Paln and Location map
ATS Pristine Noida Specification and Price List
PROPERTIES IN NOIDA
. Today Ridge Residency
. 3C Lotus 300
.3C Lotus Boulevard Espacia
.3C Lotus Panache
.Gaur Sport Wood
.JM Aroma Sector
.Logix Neo World
.Mahagun Meadows
.Nimbus Golden Palm
. Subhkama Advert Techomes
. Sun World Arsta
. Sun World Vanalika
. SuperTech Cape Town
. The Hyde Park
CALL FOR MORE DETAILS
9899562325
ATS PRISTINE I – NOIDA
Home
Completed Projects
ATS Pristine I – Noida
Located on the Noida Expressway in Sector 150, ATS Pristine is a low-density development project spread across 18 acres of land. Nestled in proximity to major corporate, educational and state-of-the-art sports facilities that have put Noida on the international circuit, ATS Pristine offers a life of unparalleled convenience. ATS Pristine welcomes you to this glorious retreat from the urban din and humdrum.